Friday was the big day for the Bloggers Meet at the Sydney Craft and Quilt Show. It was a great turn out with over 30 bloggers. Was nice to catch up with the Nundle bloggers and meet some new friends.. I didnt get any pics will have to borrow and post soon.
Susan and I met at 6.15am and travelled on to met Kate at McDonalds, Lithgow. We found her in corner stitching and talking to a new friend, a quilter from Orange ( we are everywhere!!).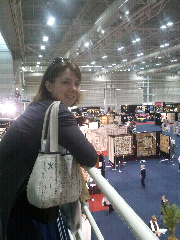 Susan enjoying the quilt exhibition
Hooterville was beautifully embelished

It was a long day, I didnt get home till 10pm but had the most fantastic time catching up with everyone and the eight hours in the car just flew by.
I did make some purchases, I was very restrained for me..maybe cause I wasnt feeling the best ( still have the flu). Will show you all my goodies in my next post.