What's that? Look!!! Up in the sky? Is it a bird?? A plane??? NOOOOO tis Maddis Amazing Water Rockets!!!
The kids have had a lot of fun playing with Maddis new rocket launcher. They spent the morning with DH painting water bottles and adding fins and tails, whilst I was off on a sewing date!!!!
Tis easy for the kids to load, DH uses an air compressor ( is quicker than the foot pump) to build up pressure in the bottles and gives the ok for the kids to pull the cord to launch their rockets high in the air.
The kids lined up patiently ( cough cough) and took turns setting the rockets off...thank you to my step dad for building the launcher!!! If you look close at the following pic, follow the water line and you can see the red rocket almost in line with the tip of the tree...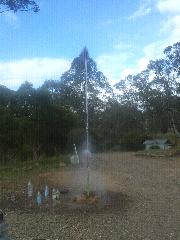 Over yonder at the end of the drive is the Chook Shed. Four little chickens have hatched since yesterday, two black and two cream. There is six or more eggs still waiting to hatch....Wonder how many we will find in the morning????....Tis late, its 12.50am here. I just finished stitching the applique on one of my angel blocks from Anni Downs "An Angels Story". Will post pics tomorrow, as my bed is calling me...
Happy Stitching
Deb :)